Successful Conservative Treatment of Chylopericardium after Open-Heart Surgery: A Case Report
Chylomediastinum
Bilgehan Erkut

Department of Cardiovascular Surgery, Medical Faculty, Atatürk University, Erzurum, Turkey.

Azman Ates

Department of Cardiovascular Surgery, Medical Faculty, Atatürk University, Erzurum, Turkey.
Keywords:
Coronary artery bypass, Parenteral nutrition, Postoperative Complications
Abstract
Chylopericardium is a rare complication following cardiac surgery. The incidence of this pathological condition is very low and mainly attributed to lymphatic injuries to the thymus or anterior mediastinum, thoracic duct injuries, or extensive posterior pericardial dissection with the possible interruption of major cardiac lymph channels.
A 62-year-old man was admitted to the cardiovascular surgery department for coronary bypass surgery, and the surgical procedure was performed 3 days later. Revision surgery was performed, because of the drainage associated with bleeding. In the post-revision days, the amount of serous drainage increased, and then chylous drainage occurred. After conservative treatment, the drainage of the chylous features decreased and eventually disappeared. The patient was discharged without any problem. At 6 months' follow-up, the patient was doing well with a normal left ventricular function and without effusion.
References
1. Sharpe DA, Pullen MD, McGoldrick JP. A minimally invasive approach to chylopericardium after coronary artery surgery. Ann Thorac Surg 1999;68:1062-1063.
2. Pitol R, Pederiva JR, Pasin F, Vitola D. Isolated chylopericardium after cardiac surgery. Arq Bras Cardiol 2004;82:384-389.
3. Dib C, Tajik AJ, Park S, Kheir ME, Khandieria B, Mookadam F. Chylopericardium in adults: a literature review over the past decade (1996-2006). J Thorac Cardiovasc Surg 2008;136:650-656.
4. Mundra V, Savage EB, Novaro GM, Asher CR. Delayed chylous pericardial effusion after aortic valve replacement. Tex Heart Inst J 2011;38:431-432.
5. Sachithanandan A, Nanjaiah P, Rooney SJ, Rajesh PB. Idiopathic primary chylopericardium with associated chylothorax following coronary artery surgery--successful conservative treatment. J Card Surg 2008;23:258-259.
6. Kelly RF, Shumway SJ. Conservative management of postoperative chylothorax using somatostatin. Ann Thorac Surg 2000;69:1944-1945.
7. Rimensberger PC, Müller-Schenker B, Kalangos A, Beghetti M. Treatment of a persistent postoperative chylothorax with somatostatin. Ann Thorac Surg 1998;66:253-254.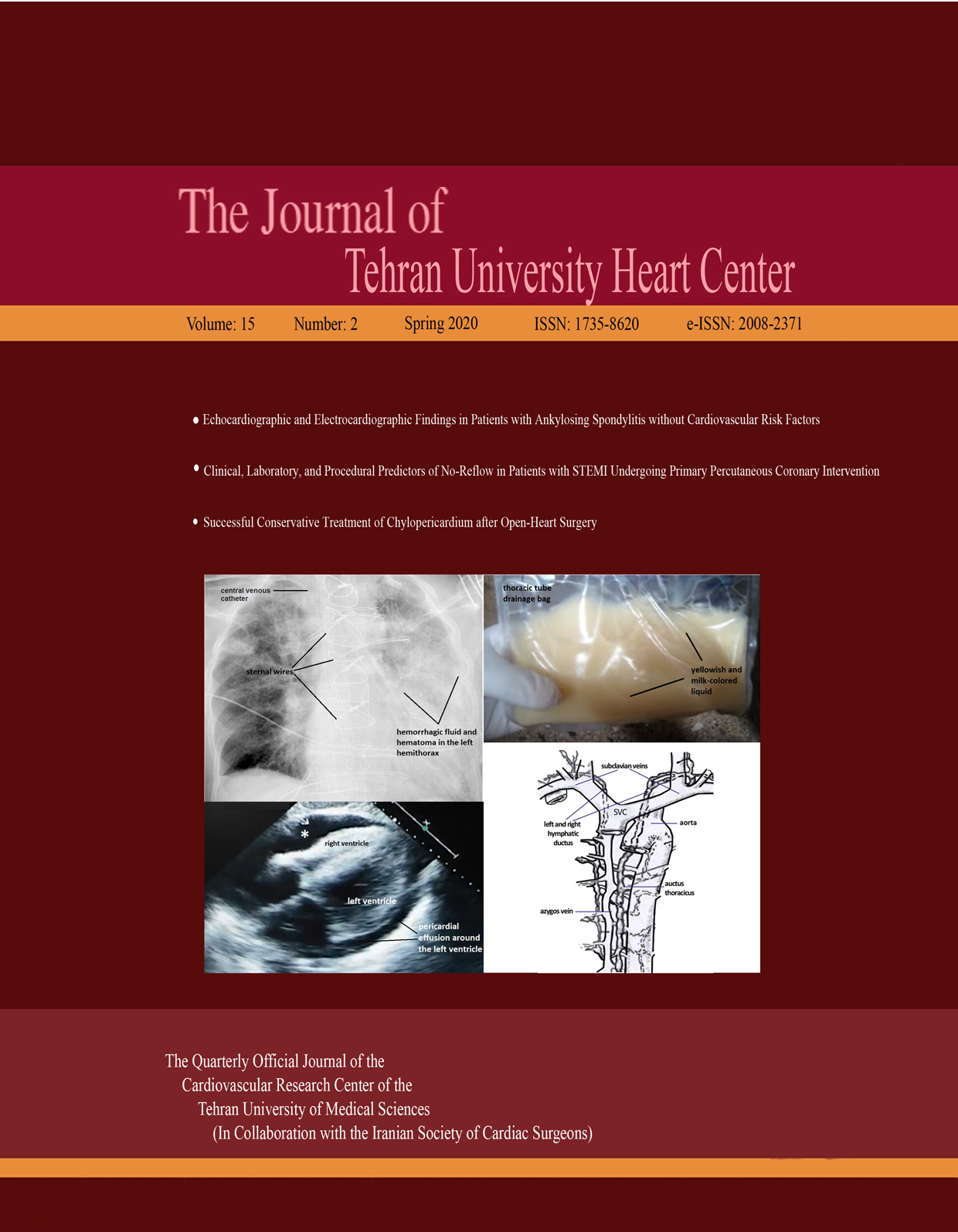 How to Cite
1.
Erkut B, Ates A. Successful Conservative Treatment of Chylopericardium after Open-Heart Surgery: A Case Report. J Tehran Heart Cent. 15(2):73-76.
Copyright (c) 2020 The Journal of Tehran University Heart Center
This work is licensed under a Creative Commons Attribution-NonCommercial 4.0 International License.