Acute Dissection of the Ascending Aorta as a Rare Complication of Aortocoronary Bypasses Surgery: A Case Report
ascending aortic dissection associated with cross-clamp injury
Ferhat Borulu

Department of Cardiovascular Surgery, Medical Faculty, Atatürk University, Erzurum, Turkey.
Keywords:
Coronary artery bypass, Aneurysm; dissecting, Aorta
Abstract
Many complications may ensue coronary bypass surgery. Among these complications, early or late dissection of the ascending aorta is a very rare condition. Successful surgery without life-threatening results can save lives. In this case report, we present a case of aortic dissection due to cross-clamp injury in a patient who underwent coronary artery bypass surgery.
A 60-year-old female patient underwent double-vessel aortocoronary bypass surgery due to coronary artery disease. After distal bypasses were performed and the cross-clamp was removed, dissection of the aorta occurred. Consequently, axillary cannulation and ascending aortic replacement with a prosthetic graft were performed via the open technique. The saphenous vein graft was sutured to the aortic prosthetic graft, and cardiopulmonary bypass was terminated after hemodynamic stability was achieved. The patient was discharged on the 10th postoperative day, and she has been followed up for 2 years after surgery without any problems.
References
1. Nakayama Y, Minematsu N, Koga K. Type A dissection caused by aortic cannulation during coronary artery bypass grafting; report of a case. Kyobu Geka 2004;57:889-891.
2. Still RJ, Hilgenberg AD, Akins CW, Daggett WM, Buckley MJ. Intraoperative aortic dissection. Ann Thorac Surg 1992;53:374-379.
3. Ohashi H, Tsutsumi Y, Murakami A, Fujii S, Abe Y, Onaka M. Acute aortic dissection due to cross-clamp injury during coronary artery bypass grafting--a report of successfully repaired case. Nihon Kyobu Geka Gakkai Zasshi 1993;41:1394-1398.
4. Subramaniam P, Skillington P. Acute aortic dissection as a complication of coronary artery surgery. Aust N Z J Surg 1996;66:498-500.
5. Ruchat P, Hurni M, Stumpe F, Fischer AP, von Segesser LK. Acute ascending aortic dissection complicating open heart surgery: cerebral perfusion defines the outcome. Eur J Cardiothorac Surg 1998;14:449-452.
6. Kpodonu J, Preventza O, Ramaiah VG, Shennib H, Wheatley GH, 3rd, Rodriquez-Lopez J, Williams J, Diethrich EB. Retrograde type A dissection after endovascular stenting of the descending thoracic aorta. Is the risk real? Eur J Cardiothorac Surg 2008;33:1014-1018.
7. Tabry IF, Costantini EM. Acute aortic dissection early after off-pump coronary surgery: true frequency underestimated? Tex Heart Inst J 2009;36:462-467.
8. Sullivan KL, Steiner RM, Smullens SN, Griska L, Meister SG. Pseudoaneurysm of the ascending aorta following cardiac surgery. Chest 1988;93:138-143.
9. Yaku H, Fermanis GG, Macauley J, Horton DA. Dissection of the ascending aorta: a late complication of coronary artery bypass grafting. Ann Thorac Surg 1996;62:1834-1835.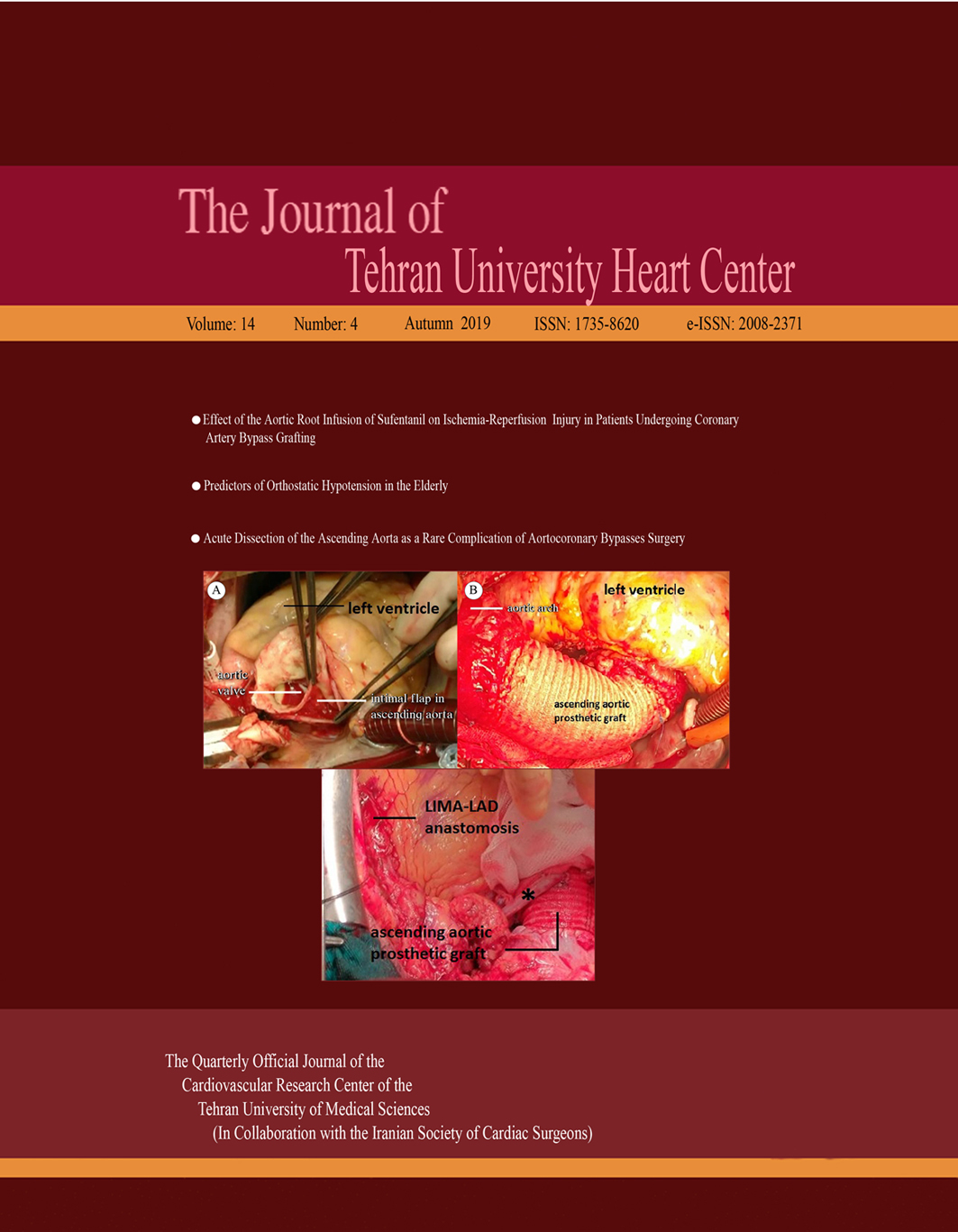 How to Cite
1.
Borulu F, Erkut B. Acute Dissection of the Ascending Aorta as a Rare Complication of Aortocoronary Bypasses Surgery: A Case Report. J Tehran Heart Cent. 14(4):191-194.
Copyright (c) 2019 The Journal of Tehran University Heart Center
This work is licensed under a Creative Commons Attribution-NonCommercial 4.0 International License.