Percutaneous Balloon Mitral Valvuloplasty and Early Right Atrial Clot Formation: A Case Report
Rezvaniyeh Salehi

Cardiovascular Research Center, Tabriz University of Medical Sciences

Naser Aslan Abadi

Cardiovascular Research Center, Tabriz University of Medical Sciences

Razieh Parizad

Cardiovascular Research Center of Tabriz University of Medical Sciences

Sanam Mirzayi

Cardiovascular Research Center, Tabriz University of Medical Sciences
Keywords:
Mitral valve stenosis, Balloon valvuloplasty, Thrombosis, Anticoagulant
Abstract
Percutaneous balloon mitral valvuloplasty (PBMV) has recently become the treatment of choice for many patients suffering from mitral stenosis. In the current report, we introduce a 26-year-old woman who presented to us with palpitation and exertional dyspnea but without any remarkable medical history. ECG illustrated the sinus rhythm, transthoracic echocardiography (TTE) showed severe rheumatic mitral stenosis and (2+) mitral regurgitation, and transesophageal echocardiography (TEE) demonstrated severe mitral stenosis and no thrombus. Accordingly, the patient underwent percutaneous transvenous mitral commissurotomy (PTMC). On the following day, TTE showed a fresh mobile thrombus in the right atrium attached to the atrial septum, which was confirmed by TEE. As a result, the patient received 1 mg/kg (60 mg) of enoxaparin subcutaneously twice daily plus 5 mg of warfarin daily. Subsequent TTE revealed no mass 4 days after the treatment. Evidence suggests that endocardial surface injury and trans-septal puncture during PTMC may be associated with clot formation, which is aggravated by low blood flow in the right atrium and the catheter as a foreign body. This case report emphasizes the importance of post-PTMC anticoagulant therapy.
References
1. Prendergast BD, Shaw TRD, Iung B, Vahanian A, Northridge DB. Contemporary criteria for the selection of patients for percutaneous balloon mitral valvuloplasty. Heart 2002;87:401-404.
2. Ateş AH, Arslan U, Aksakal A, Yücel H, Atasoy Günaydın İ, Ekbul A, Yaman M. Right atrial clot formation early after percutaneous mitral balloon valvuloplasty. Case Rep Med 2016;2016:3058015.
3. Nobuyoshi M, Arita T, Shirai S, Hamasaki N, Yokoi H, Iwabuchi M, Yasumoto H, Nosaka H. Percutaneous balloon mitral valvuloplasty: a review. Circulation 2009;119:e211-219.
4. Arora R, Nair M, Kalra GS, Nigam M, Khalilullah M. Immediate and long-term results of balloon and surgical closed mitral valvotomy: a randomized comparative study. Am Heart J 1993;125:1091-1094.
5. Dean LS. Percutaneous transvenous mitral commissurotomy: a comparison to the closed and open surgical techniques. Cathet Cardiovasc Diagn 1994;Suppl 2:76-81.
6. Lee S, Kang DH, Kim DH, Song JM, Song JK, Park SW, Park SJ. Late outcome of percutaneous mitral commissurotomy: randomized comparison of Inoue versus double-balloon technique. Am Heart J 2017;194:1-8.
7. Aslanabadi N, Ghaffari S, Khezerlouy Aghdam N, Ahmadzade M, Kazemi B, Nasiri B, Separham A, Sohrabi B, Taban M, Aslanabadi A. Poor outcome following percutaneous balloon mitral valvotomy in patients with atrial fibrillation. J Cardiovasc Thorac Res 2016;8:126-131.
8. Lu L, Hong L, Fang J, Chen L. Effectiveness of percutaneous balloon mitral valvuloplasty for rheumatic mitral stenosis with mild to severe mitral regurgitation. Biomed Res Int 2016;2016:3298343.
9. Carapetis JR, McDonald M, Wilson NJ. Acute rheumatic fever. Lancet 2005;366:155-168.
10. Marijon E, Mirabel M, Celermajer DS, Jouven X. Rheumatic heart disease. Lancet 2012;379:953-964.
11. Cohen JM, Glower DD, Harrison JK, Bashore TM, White WD, Smith LR, Rankin JS, Sabiston DC, Jr. Comparison of balloon valvuloplasty with operative treatment for mitral stenosis. Ann Thorac Surg 1993;56:1254-1262.
12. Salehi N, Abdi S, Esmailzadeh M, Movasaghi N, Abadi MN, Vakili-Zarch A. Right atrium clot formation following percutaneous transmitral valvuloplasty. Heart Surg Forum 2013;16:E162-163.
13. Roldán FJ, Vargas-Barrón J, Ríos MA, Espinola-Zavaleta N, Keirns C, Romero-Cárdenas A. Left atrial thrombosis after percutaneous mitral valvuloplasty: resolution with conservative management. Echocardiography 2000;17:41-43.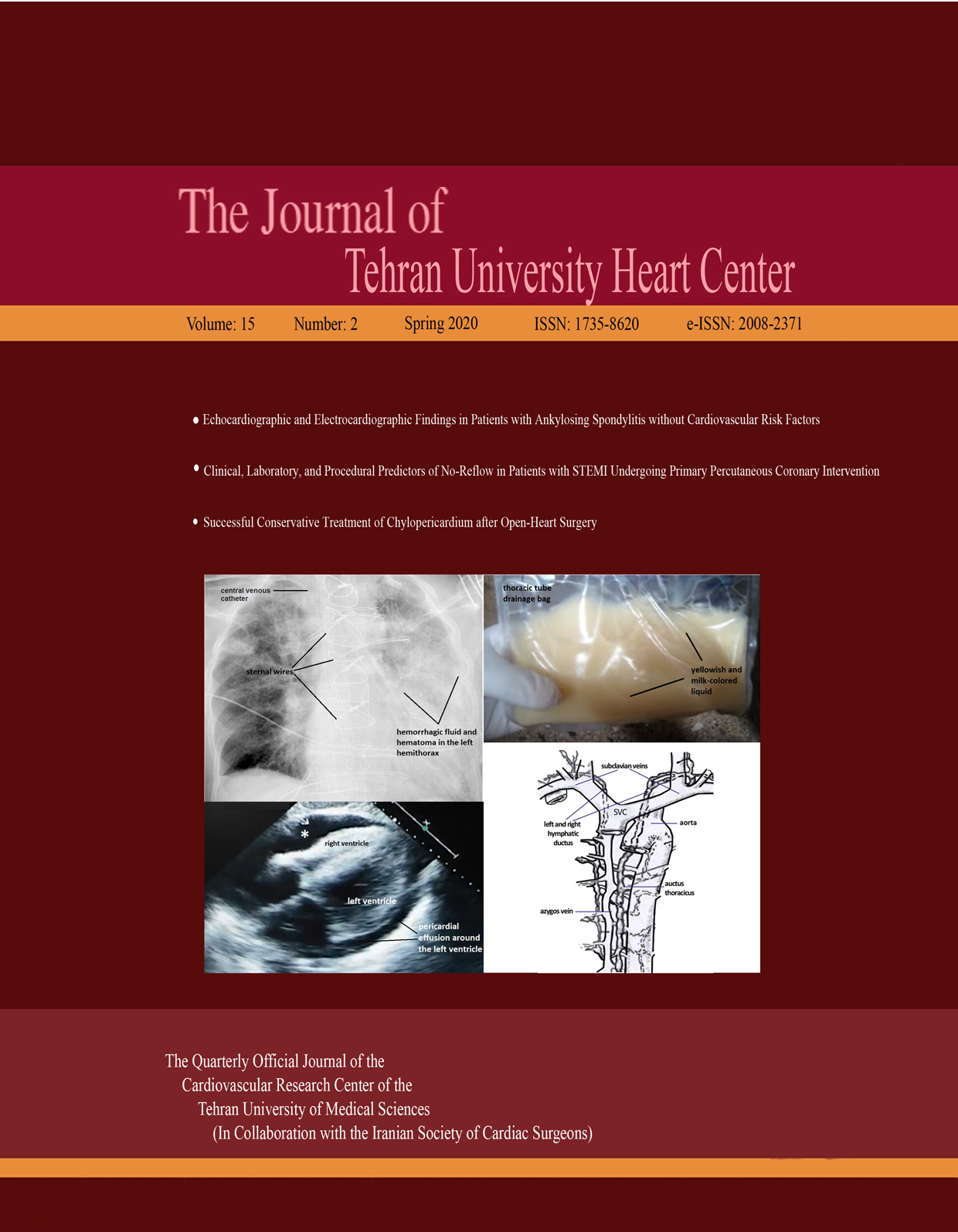 How to Cite
1.
Salehi R, Aslan Abadi N, Parizad R, Mirzayi S, Javanshir E. Percutaneous Balloon Mitral Valvuloplasty and Early Right Atrial Clot Formation: A Case Report. J Tehran Heart Cent. 15(2):77-80.
Copyright (c) 2020 The Journal of Tehran University Heart Center
This work is licensed under a Creative Commons Attribution-NonCommercial 4.0 International License.