Successful Treatment of a Huge Thrombotic Saphenous Vein Graft Occlusion with Aspiration Thrombectomy: A Case Report
Saphenous Vein Graft Occlusion; Aspiration Thrombectomy
Keywords:
Saphenous vein, Thrombosis, Thrombectomy
Abstract
Saphenous vein grafts (SVGs) are widely used conduits for the surgical revascularization of coronary arteries, but they are associated with poor long-term patency rates. Acute SVG thromboses often present as acute coronary syndrome and have an extensive atherosclerotic and thrombotic burden. Percutaneous coronary intervention (PCI) is the first treatment option; however, it carries a high risk of distal embolization, no-reflow, and periprocedural myocardial infarction. Reducing the thrombus burden and preventing distal embolization during PCI can be achieved by using some pharmacological strategies (e.g., glycoprotein IIb/IIIa antagonists) and devices (e.g., thrombectomy and filter devices). There are yet no better therapeutic options for patients undergoing PCI of SVG occlusions. Here, we introduce a 52-year-old male patient admitted with a typical acute chest pain of 1 hour's duration. Electrocardiography showed signs of acute inferoposterior myocardial infarction. A thrombotic SVG occlusion was detected in primary PCI, and a huge thrombus content was aspirated. After the thrombus aspiration with stent therapy, the chest pain was relieved and the ST-segment elevation was improved. The patient has been followed without any symptoms for 10 months.
References
1. Kim FY, Marhefka G, Ruggiero NJ, Adams S, Whellan DJ. Saphenous vein graft disease: review of pathophysiology, prevention, and treatment. Cardiol Rev 2013;21:101-109.
2. Lee MS, Park SJ, Kandzari DE, Kirtane AJ, Fearon WF, Brilakis ES, Vermeersch P, Kim YH, Waksman R, Mehilli J, Mauri L, Stone GW. Saphenous vein graft intervention. JACC Cardiovasc Interv 2011;4:831-843.
3. Sentürk T, Aydin Kaderli A, Aydin O, Yeşilbursa D, Akin Serdar O. Successful treatment of saphenous venous graft thrombus by tirofiban infusion. Heart Lung 2010;39:237-239.
4. Pothineni NV, Bahia A, Gobal F, Ahmed Z, Uretsky BF, Hakeem A. "DVT" of the heart: A "novel" treatment for an old problem. JACC Cardiovasc Interv 2015;8:e165-166.
5. Deharo P, Strange JW, Mozid A. Primary percutaneous coronary intervention of native chronic total occlusions to treat ST elevation myocardial infarction secondary to acute vein graft occlusion. Catheter Cardiovasc Interv 2017;90:251-256.
6. Bitigen A, Gurel E, Tanalp AC, Aung SM, Başaran Y. Acute anterior myocardial infarction due to aortosaphenous vein graft occlusion with very large thrombus burden. Exp Clin Cardiol 2007;12:203-205.
7. Balghith M. Use of Microvena Snare catheter in non-ST elevation myocardial infarction due to saphenous vein graft occlusive thrombi. Heart Views 2012;13:19-21.
8. Hamilos MI, Kochiadakis GE, Karalis I, Skalidis EI, Igoumenidis NE, Vardas PE. Combined use of aspiration catheter and distal embolisation protection device to facilitate angioplasty of a totally occluded saphenous vein graft. Hellenic J Cardiol 2007;48:117-121.
9. Marmagkiolis K, Cilingiroglu M. Rivaroxaban for the treatment of saphenous vein graft thrombosis. Rev Port Cardiol 2016;35:447.e1-3.
10. Saigan M, Isawa T, Ootomo T. Apixaban for the treatment of saphenous vein graft thrombosis presenting as unstable angina: a case report. Thromb J 2017;15:10.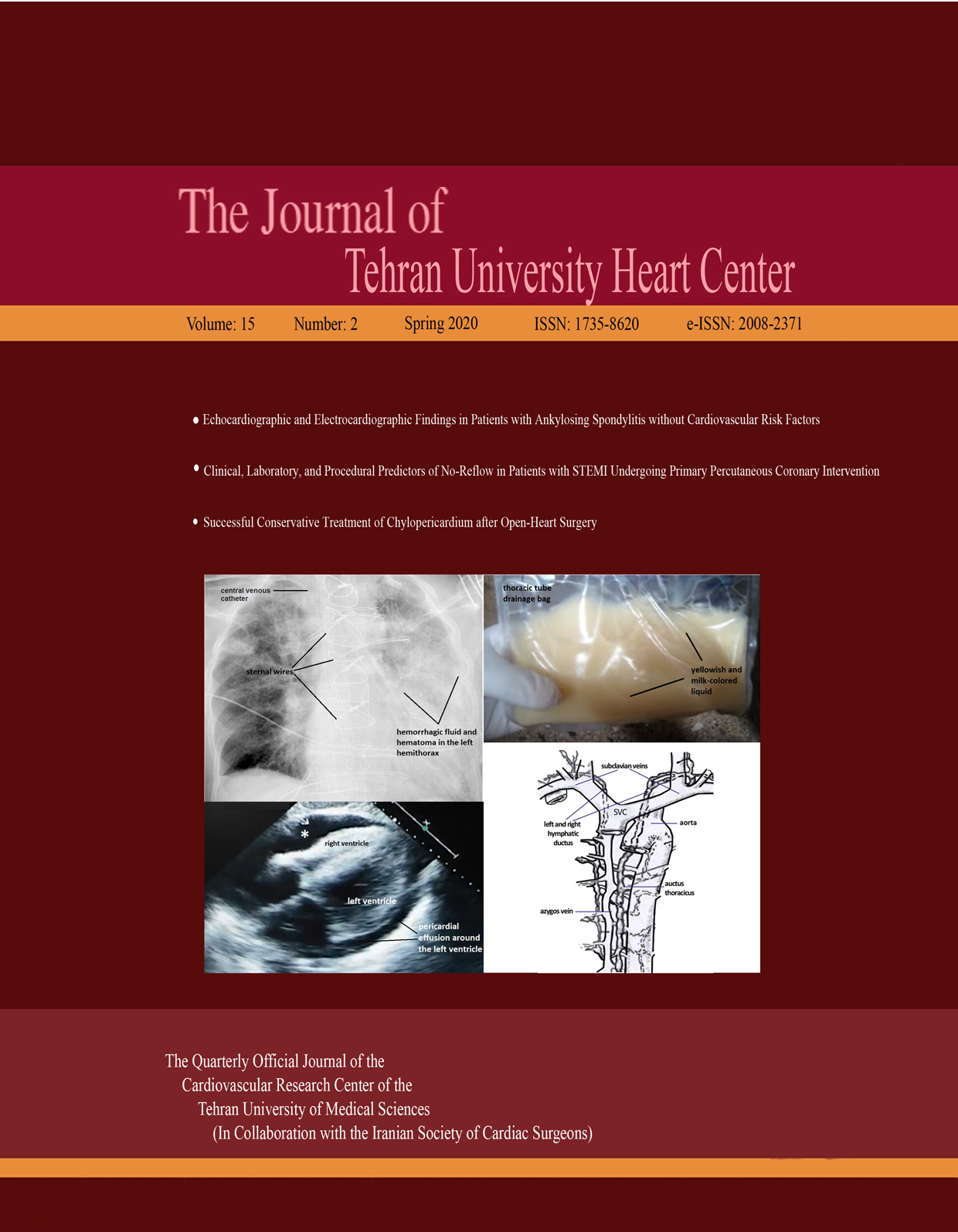 How to Cite
1.
Akcay M. Successful Treatment of a Huge Thrombotic Saphenous Vein Graft Occlusion with Aspiration Thrombectomy: A Case Report. J Tehran Heart Cent. 15(2):69-72.
Copyright (c) 2020 The Journal of Tehran University Heart Center
This work is licensed under a Creative Commons Attribution-NonCommercial 4.0 International License.